The Home Front: Dyson releases latest clean tech products
New technology promises to save time — and work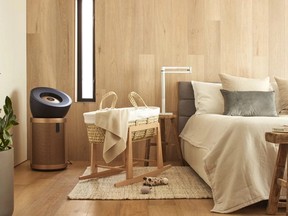 Reviews and recommendations are unbiased and products are independently selected. Postmedia may earn an affiliate commission from purchases made through links on this page.
Article content
Would you rather clean your home or have it done for you? For most people, it's the latter. The future of cleaning is robotic technology that will do this job (better than you would) so you can go off and do something else. This is the thinking behind one of the new products out by research and technology company Dyson, the 360 Vis Nav robotic vacuum.
Article content
Antony Waldock is a principal engineer in the robotics team at Dyson.
Article content
"The Vis Nav gives the performance of a stick vac in a robot. People tend to say robots won't replace stick vacs, but they are very complementary. In my house, I have both, and I use the robot more," he says.
The Vis Nav runs for just under an hour and self-charges (dutifully returning to the docking station when it needs to top up). It has a unique square-ish design to get right into corners and along skirtings, says Waldock, and requires little in the way of ongoing investment.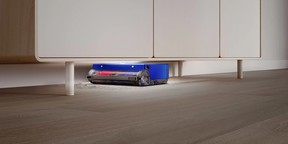 "The Vis Nav is designed as zero maintenance. You don't have to replace a bag. You can wash the filter and clean the brush bar."
When asked what he loves most about it, Waldock says: "The ability to know it's going to go out and clean quickly and clean well. It's so quick it will virtually clean my entire ground floor in 30 minutes, and you know it's going to be clean when it comes back."
Article content
Dustbusters
Dyson has been studying dust for over 20 years, says Charlie Park, vice president of floor care at Dyson.
The World Health Organization (WHO) estimates we now spend 90 per cent of our time indoors, and there are a lot of studies linking the time people spend indoors and poorer overall health and well-being because of dust and indoor air pollution, says Park. "Dust mites are a common cause of allergies, and it's not actually the dust mites themselves, but the dust mite feces."
For the last three years, Dyson has released an annual dust report. Their most recent report found that people only clean the dirt and dust they can see inside their homes. This makes sense, says Park. But it means they're missing stuff. "The particulars that are too small for you to see with the naked eye are things like bacteria, viruses, pollen and dust feces."
Article content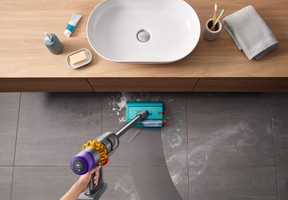 In response, Dyson has released its latest cord-free vacuums — the Gen5detect and the Gen5outsize, which have "fluffy optic" technology that illuminates twice as much invisible dust as their previous models. So people will be able to see what needs to be removed, says Park.
These vacuums (which Dyson says are its most powerful in terms of suction) also indicate how clean your floor is while you're vacuuming. So if you're vacuuming the carpet and there is more dust to collect, the machine will let you know. "The bars go back down to zero, and you know the carpet is clean," he says.
They also trap the viruses
People are still very concerned about viruses in their homes, says Park. So the Gen5detect and Gen5outsize use Dyson's cyclonic technology and HEPA filtration to trap microscopic particles as small as 0.01 of a microbe.
Article content
"So as you clean your home and you're picking up dust, which can contain a lot of virus and bacteria particles, they're definitely staying in the machine, and you are not allowing them to exhaust into the air."
Clean air tech
To deal with the dust and pollutants swirling through the air in your home and workplace, Dyson has released a new air purifier — the Dyson Purifier Big+Quiet Formaldehyde, which projects forward up to 10 metres (meaning it circulates and cleans the air even in large open-plan spaces) and is quiet, while it works.
The filtration system in this machine traps "99.97 per cent of pollutants as small as 0.3 microns" in the room where it's being used. It also destroys formaldehyde and sends indoor air quality updates to the user's smartphone.
Article content
Theo Jones is a category intelligence engineer at Dyson. Of the Dyson Purifier Big+Quiet Formaldehyde, he says: "It's esthetic but incredibly functional. The cone air dynamics looks great, but it also performs really well."
Dyson's first-ever wet vac
The icing on the cake of Dyson's latest releases is their first wet vacuum — the Dyson Submarine wet roller head — which removes "spills, stains and small debris." This roller head has a small tank for the water it uses to clean and a separate dirty water tank that it collects as it goes.
"This is a really new technology for us in terms of getting to that next level of clean, and it shows a lot of the problems that we can see in areas where people have children or pets," says John Churchill, chief technology officer at Dyson.
The Home Front: Now's the time for a front porch refresh

Amazing space: Westside residence is revamped, reimagined
link